Monday, Jan 21 is National Hugging Day!!!
National Hugging Day was founded on January 21, 1986. This celebration of hugging has been embraced internationally in places such as the United States, Guam, Canada, England, Australia, Germany and most recenlty St. Petersburg Russia! Schools, nursing care facilities, hospitals, and numerous other groups and organizations jumped in and held-on-tightly to this exciting, family-friendly event!
The purpose of this day is to promote the value of hugging year round, especially between family and friends.
I am honored to be recognized as one of the "Most Huggable People of the Year!"
We'll plan on doing a special Monday HugNation hug at 1pm in the lounge…and perhaps throughout the day. Who knows? The hug vibe is STRONG! 🙂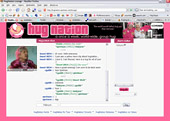 if you haven't checked it out, yet, we have a HugNation Ning, and Tribe!