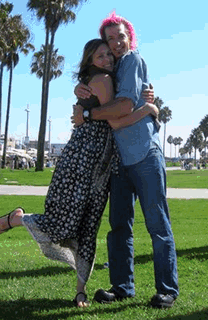 HugNation is a Webby Award-winning weekly live broadcast once co-hosted by 94 year old Rev. Caleb Shikles.
When he passed, HugNation founder (and grandson) John Styn decided to continue the show solo and do a semi-annual "Hug Tour" to take Grandpa's message of love, hugs, and oneness on the road.
(3 min HugNation profile by CNN)
The 6 city 2009 West Coast tour is taking shape now!
We are currently looking for
1) A good charity match.
We want to use the tour as a way to raise funds for a good cause. We are looking for a "Light spreading" (vs. "Dark fighting") organization. Preferably not faith-based (or at least pretty open-minded and pink-friendly.). And willing to work with us to try to get some press/attention and maximize the positive impact.
We want to give proceeds from Tshirt sales, and discuss other possibilities. (Hug-a-thon?)

2) Venues.
Specific dates, and needs TBA.
3) Local Contacts
in Seattle, Oregon, SF, Sacramento, LA, and SD. (other cities possible if need/venue/etc.)
4) Individual & Corporate Support (hugtour2009@styn.net)
5) donated shirts? APB is doing all Tour Shirt stuff at his cost. But we could get more money in the hands of charity if we could get things like the shirts donated! American Apparel, I'm looking at YOU!
The 2007 Tour was a magical experience that changed me forever. Hopefully you can be a part of the journey this year! STAY TUNED!

2007 Video from Sacramento Hug: